poison ivy batman
Stridder44
Apr 10, 12:28 AM
Wirelessly posted (Mozilla/5.0 (iPhone; U; CPU iPhone OS 4_3_1 like Mac OS X; en-us) AppleWebKit/533.17.9 (KHTML, like Gecko) Version/5.0.2 Mobile/8G4 Safari/6533.18.5)

This should be interesting.
---
poison ivy batman cartoon.
Apple is now getting their parts from the same bin that PC makers use. Intel = cheap parts. Cheap parts = low quality.

Same thing with the batteries....

OS X can run on PPC and X86. Apple should target X86 to consumers and PPC for pro's Yet iBooks and PowerBooks (PPC based systems) are part of this most recent battery recall (and a prior one)... it has nothing to do with switching to Intel. Apple has been using standard commodity parts in their systems for a VERY long time now.

...and while you are at the site why not look at some non-Intel based systems...

http://www.appledefects.com/wiki/index.php?title=Titanium_PowerBook_G4
http://www.appledefects.com/wiki/index.php?title=PowerBook_12%22
http://www.appledefects.com/wiki/index.php?title=Ibook
---
poison ivy batman cartoon.
boringName
Nov 29, 10:14 AM
The only thing this royalty grants you is a tacit guarantee that Universal will continue to provide digital content.

Yes, that's the irritating part - Universal isn't providing anyone with anything, here. It seems much more like blackmail to continue offering their music library on iTunes (should this "deal" go through) and the Zune store.

To address another item - I'd like to point out that, while not an angel, I "ripped" far more of my friends' music back in the old-days of cassette tapes.
---
poison ivy batman cartoon.
barkomatic
Mar 31, 03:58 PM
At a glance your statement sounds fine. But that logic can be used for following logics:

1. I don't care what US does to rest of world as long as I as an american can live nice, prosperous life.

but i digress...

You're comparing a phone or a tablet to U.S. foreign policy? I'm sorry, I don't think gadgets are as important as that but apparently you do. I think you need a check on your perspective.
---
into Poison Ivy#39;s origin,
sierra oscar
Sep 19, 09:39 AM
I don't know how many times we have to go round and round with this here. I've been on MacRumors since '01 and it's always the same-old, same-old. It's not legitimate. It's "I-wantism." You have no basis to believe that a Rev B would be more "stabled and refined." That's a hope, backed by nothing -- and nothing Apple ever comments on, either. The bottom line is that you can hope if you want, and you can wait if you want, but to bash Apple for being slow on the trigger, and to make the argument that Meroms are amazing and Yonahs are crap is, frankly, horse manure. Like I said, 64 bit is pretty irrelevant for most users, and the speed and battery differences are quite negligible. And the argument that Apple is losing tons of sales to PC manufactuers is, frankly, laughable too.

Sure... I have no basis to believe a revB will be more stable and refined. But I'm participating in 'discussion' - so no real proof - but I wasn't seeking any.

I did state - I was hoping a revB would 'maximise' my chances though. Ironically just as I have no 'proof' neither do you that this won't be the case.

I find your tone very condescending and doesn't encourage open and accepting dialogue between ppl here. I don't understand why you would participate then... If you need to be the oldest forum member (you win) or 100% right (you can win that too).... but I want to engage with ppl here in a friendly and warm atmosphere.
---
poison ivy batman cartoon.
Yes.

Actually, we're going to have to ask you to leave the country. You and your fake birth certificate aren't welcome here.

LOL... I'll just draw it up in crayon, that should suffice.
---
poison ivy batman cartoon.
Still waiting for game benchmarks...
I think you will be happy with rather amazing performance boost you will see from WoW in the near future when running on a Mac Pro (it isn't all a result of just hardware either). Expect other games to improve as well.
---
Batman The Animated Series
HecubusPro
Aug 27, 06:25 PM
I hate to say it, but I think the chances of Apple dropping the merom chips into laptops before September 5th are pretty slim. It's probably more likely that the waiting times are due to back to school rush shortages; Apple has doubled its laptop market share with the Macbook. http://arstechnica.com/journals/apple.ars/2006/7/25/4753

I agree 100%.

In addition, thinksecret reported earlier this month that we might be seeing an updated case for the MBP. http://www.thinksecret.com/news/0606macpro.html While this would be a good thing, because it alludes to Apple maybe addressing the heat issue, it is pretty unlikely that Apple would start shipping a machine to buyers without diclosing that the case looks different.

I've always loved the current look of the aluminum enclosure for the MBP's, so I'm not necessarily looking for a different enclosure, though I wouldn't mind if they did. It's what's inside that counts, right? :p

IMO, I believe the new enclosure will basically add easier access to swappable HDD's like the MB. It doesn't seem appropriate for a lower end model computer to have a feature the professional level model should have. That's why you pay the big $. I think the enclosure will remain the same, but we'll see an update that will allow users to change out their hard drives if they choose.

Apparently, the September 5th date stems from reports that Apple is scheduled to recieved a massive product shipment from Asia. http://www.appleinsider.com/article.php?id=1965 This coincides with other reports of the new Macs being ready "after Labor Day."

Agreed again. I know it's exciting to think that we'll see new macs with merom tomorrow, but I think that's 99% unlikely to happen considering the report stated that Apple will receive "a massive product shipment from Asia" on the 5th of September (remember, remember the 5th of September:cool: ) that still doesn't take into account the time it takes to ship from their warehouses where they received those shipments, to their retail outlets--Apple stores, etc. My guess would be that we'll begin seeing merom MPB's between the 7th to the 22nd in stores and online. Perhaps that's not a bold prediction, but I think it's a safe one. :D

It's pretty safe to say that we will be able to get our Merom Macs at the very latest by the second week of September; thus, we will all be able to capitolize on the ipod deal that runs through the 16th. Personally, I think that the likelyhood of time running out on the nano deal is pretty slim because that sale is likely in response to an imminent refresh in the nano's own product line. http://buyersguide.macrumors.com/

Though I certainly do hope they'll be available in time to take advantage of the free Nano before that deal runs out on the 16th.
---
Batman Animated Series POISON
Stridder44
Nov 28, 09:06 PM
No guys, this sounds like a great idea....*cough*.....
---
Buy Batman: The Animated
So I wonder if Wally World is going to be doing the same thing? I did my usual camp out last year. There is a Walmart like 30 seconds walking distance from the ATT store. If this is the case then I will be camping out in the Walmart which is 24/7
---
Poison Ivy - Batman Wallpaper
aswitcher
Aug 11, 02:49 PM
You guys are looking about a $500.00 phone...atleast.

Perhaps. But thats about right for a Nokia N series with most of the features we have been mentioning.
---
Poison Ivy from Batman the
hobo.hopkins
Apr 25, 02:12 PM
Its none of your business what things I'm involved in and want hidden. Its my right to privacy so back off.

That's why the information is stored locally and can't be accessed by third parties. The information IS private. Unless a device of yours is stolen, in which case almost anything can be done or accessed.
---
poison IVY batman arkham
So, you're comparing a mature product (Tiger) to one that's still in beta and which by all accounts has plenty of outstanding issues before it's ever released (Vista)? Ok soon lets compare Leopard and Vista.

The fact of the matter is that Vista has to be functionally complete now (or else they are going to miss shipping dates by a large margin)... so the functionality you see is basically what you are going to get. Put aside the crashes, performance issues, bugs and you can get a good sense for how it will operate when it is released.

Really MS has taken the transparency and visual effect so far that they are distracting and degrade usability (thank fully you can adjust them to some extent)... they are doing just like Apple did in Mac OS X 10.0 (transparent window title bars when in background, overly transparent menus, etc.) but thankfully Apple has been refining it for the last few years for looks and usability.

Also the new user security mode is going to be a big nightmare for folks until 3rd party software catches up with it... currently in my average usage it is always bouncing to out the full screen overlay with security confirmation dialog... I am at the point I don't read them any more since the disrupt what I am trying to do. (We have several developers in house struggling to keep up with changes and bugs in the beta, making it hard to get ready for Vista).

In the end Vista will be a good OS but it is going to be a little painful for the Windows world for the next year or so (into 2008).
---
poison ivy batman cartoon.
Chris Bangle
Aug 11, 11:24 AM
Ill only buy it if stupid little spoilt english kids dont buy it, i dont mean posh english kids but yobbish ones, I want it to be the coolest thing in the world. The nano has become the essential for yobbish teenage boys and girls in the uk and I just want those stupid turds to stick to their quote "amazing black v3's with itunes and video" which dont actually have itunes and video!!!!!!!!!!! :mad: :mad: :mad: Im not ageist because im 16.....
---
Villain: Poison Ivy
ZoomZoomZoom
Sep 18, 11:10 PM
Surprise?

News Flash: Apple to update chips in incredibly expensive pro laptop line no more than 3 months after competitors!

They better be updated by the 26th. Not only is any later date even more ridiculously late, but I'm starting to get kernal panics on my old computer. -_-
---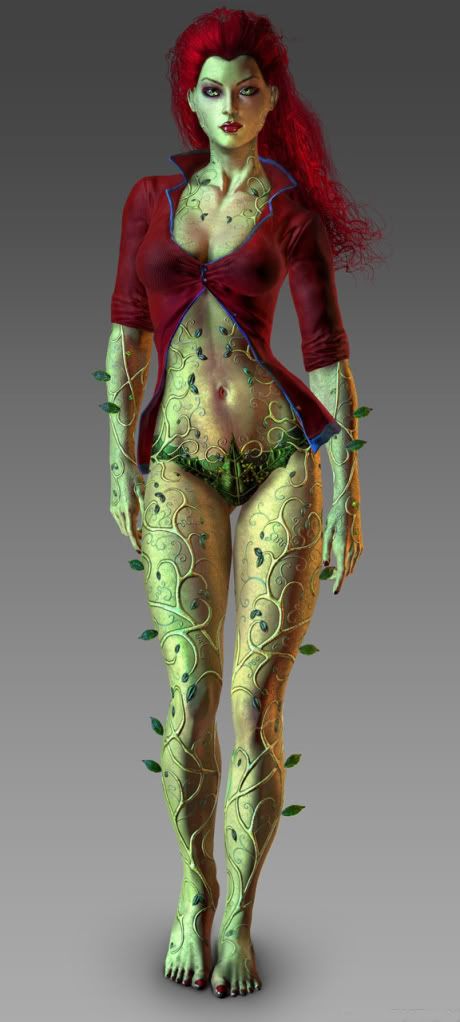 poison ivy batman cartoon.
Actually, the merom in not completely compatible with the yonah chips. There will have to be some redesign on Apple's part that is supposed to delay the new MBPs. This article somewhat explains it:

http://blogs.zdnet.com/Apple/?p=249

I don't know that I buy that, especially considering they have no source, and people have already done merom swaps on shipping machines. If there is an issue, I'd guess it's only an issue in the soldered version.

As far as the 2nd optical slot goes, don't you think it's a pain to have only a single drive?

And especially when a second one probably adds less than $50-$75 to the system cost to the customer? (And extra profit potential for Apple?)

Not really. My last machine had two, and I rarely used both. I think most people in the market for two optical drives are probably going to want the full pro tower anyway, and there's not that much profit from the second slot since most people will add the drive themselves instead of from Apple.

MS will announce that they are dropping Mac development

But didn't MS sign a multiyear contract with apple committing to support?

I'm not sure why you're saying this price is way too low. The specs, so far as I can see, are quite similar to the current bottom-end iMac, which has an integrated screen, and it's price is only $300 more. It seems to me that this price is actually about right.

Also, I think that the name 'Mac' is a distinct possibility. Not saying I like it (or that I don't), or that it isn't simplistic, but I think that it's not unreasonable. FWIW, 'Mac Express' is nice, too, but I don't see Apple jumping on a name like that as quickly.

Maybe not way too low, but a bit low, especially when you compare specs to the $799 mini. The problem with MAC by itself as a name is that people will ask "what kind of mac" and the response is "Mac". It's a bad slapstick routine. It's like Ford selling a car called the Ford.
---
Poison Ivy used to look
Just to clarify a few things...

Merom does NOT use less power than Yonah. The cause of confusion about this is that Merom DOES use less power than the Pentium M. And Conroe uses less power than the Pentium D and Pentium 4. And Woodcrest uses less power than the previous Xeon chips. So people are confusing the latter as a misrepresentation of the former.

Merom uses the same amount of power essentially per MHz as Yonah. However, it is 20% more efficient than Yonah is. So while putting Merom into any of the current machines will NOT make them cooler or use less power than the Yonah versions, they will all:

1 - Be approximately 20% faster at the same MHz rating.
2 - Have 64-bit capability.
3 - Have enhanced SSE (closer to AltiVec than previous Intel chips.)

Some of the Merom chips also have twice the L2 cache (4 MB vs. 2 MB) which would also increase speeds, but the other items above are more important in the grand scheme of things.
---
poison ivy batman. poison ivy
Get with what program? I went to the support site on the day the recall was announced, checked to see if my serial number was in the range, it wasn't, and I went on with my life. Just to be safe, I even checked back a couple days later, and the ranges were still the same as the first time I checked.

I had to do the same thing wheh I was checking out our Dell laptops at the office. It's really not that difficult a concept. I think some people just like to have something to complain about.

Some sites were reporting wrong ranges, at the end of the day its which site alerts you first, in my case it was MR and they didnt get it right (http://www.macrumors.com/pages/2006/08/20060824134647.shtml) initially which is.......confusing
---
poison ivy pictures atman.
Chip NoVaMac
Apr 8, 12:17 AM
Not really a spectacle. They take the evening's drop shipment and get it into inventory. they sell it at the three places I can check before the Mall even opens, for example: Kenwood Town Center in Cincinnati opens at 7:00 for mall walkers. They let people in line at that time. The store opens at 8:00 to give "reservations" to the line standers for their choice of the available stock. They start processing/selling at about 8:30 and distribution is usually complete before 10:00 when the mall stores open and shoppers arrive. Apple doesn't open for sales till 10:00 either. So they are actually avoiding the spectacle and line in front of the store during normal hours, which you would have if everyone showed up around 4:00 or 5:00 to be around for the afternoon drop-shipment.

I like Apple's approach on the iPad 2 vs my experience with the iPhone 4 - where I and 20+ of my closest friends packed the Reston Apple Store in order to see if we could score the iPhone 4 from that mornings delivery.
---
people will buy a xoom just because its not made by apple.

EXACTLY! But it doesn't make the Xoom or the iPad 2 any less of a great product. I advice everyone who gets a chance to use it. Actually use the Xoom and see it's not so bad. I really think many of you guys are just hating on it because it's not an apple product so it obviously can't compare. -_-
---
Freescale? Where does Freescale have a 64 -bit spot on their road map? (I want to know) Could this be.. really? Freescale? Now there's a twist I for one, did not see
---
No need to take shots at the Xoom - it's actually nice little device.

Doesn't have the best polish software-wise... but to act like it is THAT far off from the iPad2 is lunacy.
---
Screwing around is how they lost Macs in the first place. They wanted to only sell certain iMac Colors and Apple said you can sell what we send or not at all, that's why Apple left them in the first place years ago. Then they cam back with the "store in a store" concept.

I think the deal was that they had to sell the same number of each color, so if they got a shipment of 10 of each and had 5 limeys left over, they couldn't order 10 more of, say, blue until limey was gone.

Right? (And I owned a lime iMac, so quit your whinin'! :D)
---
Uh, last time I checked, Windows can take advantage of multiple cores just fine. Do you think that multithreading is some Black Magic that only MacOS can do? Hell, standard Linux from kernel.org can use 512 cores as we speak!

Related to this: Maybe not 512-way SMP, but here (http://www.linux-mips.org/wiki/IP27_boot_messages) is what it looks like when Linux boots on 128-way SGI Origin supercomputer. Note, the kernel that is booting is 2.4.1, which was released in early 2001. Things have progressed A LOT since those day.

OS X works with quad core == "Ahead of technology curve"... puhleeze!



Windows works just fine with dual-core. It really does. To Wndows, dual-core is more or less similar to typical SMP, and Windows has supported SMP since Windows NT!



Any reason why it wouldn't work? And did you even read the Anandtech-article? They conducted their benchmarks in Windows XP! So it obviously DID work with four cores! And it DID show substantial improvement in performance in real-life apps! Sheesh! Dial tone that fanboysihness a bit, dude.

I think the same applies to you, Bill. You seem to be here to act as a Microsoft evangelist.
---